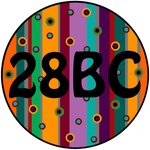 28BC
We are 28BC. A creative design duo from Birmingham, UK.
With a strong background in fashion and textiles, and having always wanted to start a business doing what we love, 28BC.co.uk is here! We're delighted that you're reading this because it means you're joining us at an exciting time in our creative adventure!
We've always dreamed big, even though our voices are somewhat small. Having started off selling vintage clothes, a passion of ours, we've now developed the confidence to express our creativity through art prints. Inspiration comes from anything and everything. We love colour (the monochrome life just isn't for us!) and anything patterned. All of the prints start off in our head, often catching us off guard. Once we get hold of a pen (we're sure they have legs) we draw them. The colour is then added, and the patterns are created by us digitally.
The next stage for us will be a clothing collection where you will be able to take our prints off the wall and into your everyday life.
Stay in touch via; Twitter: @twentyeightbc Facebook: 28BC Instagram: @28bc Email: twenty8bc@live.co.uk
Read more